Follow me on

Facebook

or

Twitter

or subscribe via email below to never miss out on a deal!
I'll be visiting Kyoto early next year for 3 days.  I've also wanted to experience traditional Japan because it looks beautiful.  Tokyo is hip and modern, but lacks the traditional Japanese charm.  My goal is to stay at the Hyatt Regency Kyoto, but it is currently not available for my desired dates.  I booked 2 nights at a cheaper hotel in the meantime.  However, my main goal is to experience staying in a ryokan, which is a traditional Japanese lodging where they serve you your meal in your room.  These are usually very expensive, so I'm only planning for one night.  I want to stay in a Japanese ryokan with points, is it possible?
The best website to look for Japanese ryokans is Japanican.com.  Many Japanese ryokans only show up on that site and not on other third party websites like Booking.com.  Since I'm going during a holiday period, I already know I will spending a good amount.  As any smart frugal traveler would do, I sorted the list by price and started looking at the reviews and cross referencing the review with Tripadvisor.
After scrolling through a few options, I narrowed my choices down to two ryokans.  The first ryokan was called Gion Shimnoso and the second ryokan was called Hiiragiya Annex.
Gion Shinmonso was about $280 USD and it included breakfast and dinner.  It got decent ratings on Tripadvisor and seemed reasonably priced with a good location.
Hiiragiya Bekkan is the annex of the traditional well known Hiiragiya Ryokan.  It cost about $400 USD and provides breakfast and dinner as well.  The location seems a bit better and the food looks awesome, however the room seems really small at about 100 sq meters.   It also got a great rating on Tripadvisor.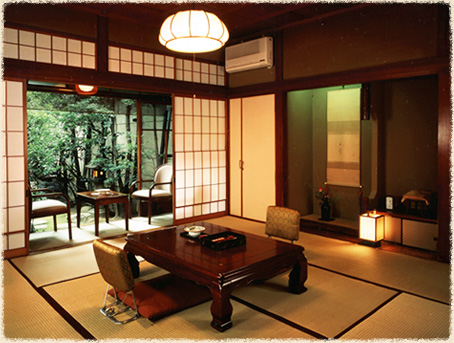 We ended up booking Gion Shimonso for about $290 because it provided us what we wanted.  However, I am leaning towards Hiiragiya because I've heard great things about it.  Is it worth the extra ~$110 just for one night?
Using Points for a Japanese Ryokan
The only way I was going to be able to use points is to use my wife's Barclaycard Arrival points.  She signed up recently, but we haven't touched her points yet.  Thankfully, Japanican counts as a travel expense and we could use Barclaycard points on it.  Unfortunately, it will almost wipe out her whole Barclaycard balance.  We have one night at Gion Shimonso on hold, but it is always fully refundable.  I also didn't redeem her points yet, because she has 90 days to redeem it.  I have about 45 more days to apply 29,000 Barclaycard points to this expense to get our stay for free.  That's how I would stay in a Japanese Ryokan with points.
Now I'm doubting my choice and thinking about choosing Hiiragiya Bekkan.  Good thing the rate is fully refundable.  Any thoughts, or any other recommendations?
Sign up for the best credit card deals below to collect points and travel with me and hundreds of readers for free!

Disclaimer: I may be compensated if you are approved for some of the credit cards listed above. Thank you very much for your
support!